Allens Confidential podcast
Hear from our team about life at Allens
Looking to embark on a career in corporate law? We know it can be hard to differentiate one firm from another, particularly when everyone says they 'do great work with great people'. But what does that mean?
Our podcast, Allens Confidential, aims to answer that question and give you real insight into what it's like to work at Allens. Join hosts Tahlia Rodrigues and Melissa Camp for the latest season, and listen below or on iTunes, Spotify or PodBean.
The inside word from Managing Partner Richard Spurio
Managing Partner Richard Spurio joins Mel and Tahlia to share his experience of helming Australia's oldest law firm. Richard discusses his background, his pathway to Allens, what it's like to journey through the firm and what he's most proud of about Allens. He also shares his hot tips for prioritising wellbeing, seizing opportunities and keeping pace at Run Club.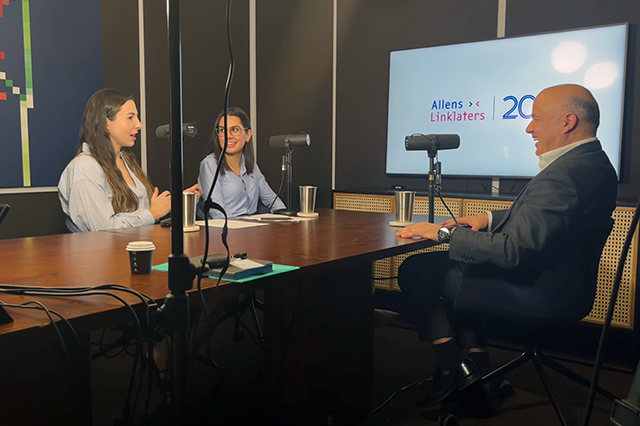 Preparing for clerkship season
The Allens Confidential team is putting together a podcast episode with a difference: you ask the questions.
In short, we want to know what YOU want to know, but are too embarrassed or scared to ask: all those taboo topics, thorny questions and persistent clerkship myths (hello removal of pay secrecy clause, goodbye rumour that you need a High Distinction average).
So tell us, anonymously: what's that one, burning question you've always wanted to ask? It's a fair bet you're not the only one who wants to know, so help us make this episode really matter to you and your cohort.
And yes, we mean 'anonymous'. All questions sent to the submission box are entirely anonymous… assuming you don't sign off with your name at the end. Don't be that person.