Swapping suits for gumboots – my day as a blue carbon scientist
A key component is giving everyday people – like Elise – the opportunity to become scientists for a day, travelling to wetlands in Sydney, Melbourne and Auckland to participate in different data collections activities. Data collected is used by researchers to better understand blue carbon dynamics and coastal systems (mangroves and saltmarshes).
We caught up with Elise to hear what her experience was like.
Tell us about your experience?
On the day of the Blue Carbon field trip I woke up early and dressed in my hiking leggings, quick-dry socks and sparkly gumboots. I'd be lying if I said I didn't feel a bit out of place decked out in my muddy hiking clothes and gumboots as I walked through the ornate entrance of 333 Collins Street and headed up to the HSBC offices. After a short briefing on blue carbon and HSBC's sustainability program, I was off to the mangroves.
As we drove over Westgate Bridge I could at last see our destination, Stony Creek Park. The area is made up of a curve of green trees surrounded by factories (located between the Yarraville Oil terminal and the BP Lubricant plant). In the 1960's, a local resident planted a few mangroves in one of the most industrial parts of Melbourne. The ecosystem survived and is now spreading around the coast, cleaning the soil and trapping carbon in its roots.
After a delicious lunch, we set off into the mangroves, squelching our way through the dense foliage and trying to avoid stepping on pneumatophores (mangrove breathing tubes).
I felt like a real scientist, equipped with a tool belt of tape measures, a clipboard, sampling materials and pliers.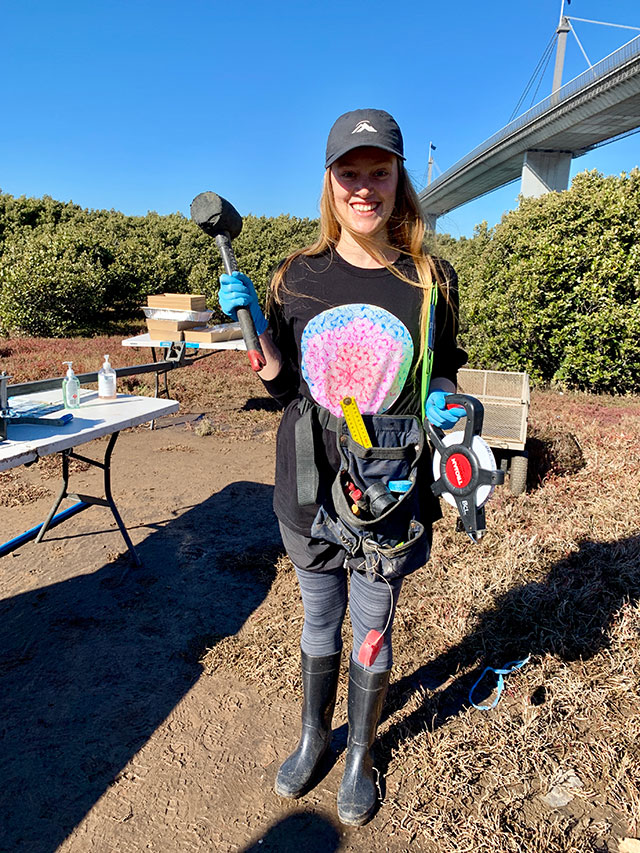 My task involved three steps:
Taking core samples

Taking a core sample involved hammering a one metre piece of PVC pipe into the ground and then pulling the tube of dirt out of the ground. The tub of dirt was then extracted and cut into sections.

Back at the lab, researchers dry the samples and analyse the components of the soil to compile historical data on contaminants and the presence of carbon. Older layers are black and have an oily smell due to historic oil contamination, whereas recent soil is healthier thanks to the establishment of the mangroves.

Counting the number of seedlings and pneumatophores

The second task was to randomly throw a 30cm grid on the ground and count the number of seedlings, pneumatophores and crab holes within that grid. There were plenty of pneumatophores but, unfortunately, I didn't see any crabs.

As a team, we had to measure every mangrove within a 5x5 metre area!

Measuring the dimensions of each mangrove

We marked a 5x5 metre area in order to measure the above-ground biomass of the mangroves (to assist with calculating the offsets available). Our designated area contained up to 50 trees, which all had to be measured. By the time we finished we had spent 2-3 hours measuring all the mangroves in the gloomy light and we were starting to experience the first symptoms of mangrove madness.
What did you learn?
First, I learnt what blue carbon is. Put simply, it is carbon captured by coastal and ocean ecosystems (including seagrasses, saltmarshes and mangroves). I was amazed to learn that blue carbon ecosystems are incredibly efficient at trapping carbon: mangroves absorb carbon from the atmosphere 30 to 40 times more efficiently than a forest and are described as 'the kidneys of the land'.
I also learnt that mangroves play an important role in supporting fisheries (they act as nurseries for baby fishes) and protect shorelines against extreme weather events such as flooding. I have newfound appreciation for all the hard work mangroves are doing to trap carbon and fight climate change.
What positive things did you get out of it?
In the Environment and Planning team at Allens, we have recently been working on several native vegetation offset matters. The process of measuring each mangrove plant gave me a new appreciation for the thoroughness and labour-intensive nature of scientific work.
I also have a better understanding of the data supporting an offset report and have been considering ways blue carbon could support our clients achieve internal voluntary carbon targets.