How we're making an impact: sustainability at Allens
We're committed to helping our people get involved in a range of community initiatives. Many of our staff, from junior lawyers to partners, have taken the opportunity to make a positive impact to the world we live in, outside the office.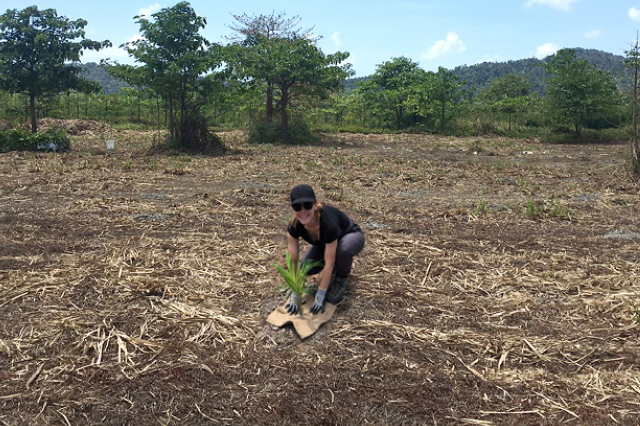 For Naomi Bergman, a Managing Associate specialising in environmental, planning and native title law, a visit to the Babinda Carbon Offset Project brought Allens' sustainability efforts to life.
The Babinda Project, located about an hour south of Cairns and 20km upstream from the Great Barrier Reef, is a new carbon offset initiative that has been earmarked to form part of our carbon offset portfolio through our partnership with Qantas Future Planet. In addition to offsetting carbon, the project specifically targets declining water quality, one of the greatest threats to the Great Barrier Reef.
As part of the trip, Naomi worked with senior executives from other large corporates to plant more than 300 trees at the site. The group also worked with scientists from James Cook University to conduct biomass measurements of trees previously planted as part of the project, calculating the amount of carbon stored in the tree to form the basis for the generation of carbon offsets.
We caught up with Naomi to find out more about her trip to Babinda and her experience of sustainability at Allens in 2018.
What did you learn on your trip to Babinda?
The trip was incredibly thought-provoking, particularly given the enormity of the climate issue and the challenges facing the Great Barrier Reef. The extent of deforestation in the Babinda area is staggering, but I found it encouraging to learn that projects like the Babinda Carbon Offset Project are starting to return the land to its natural state and restore vegetation.
The project itself is fascinating in that it is delivering a trifold benefit for the environment. The land in the area we visited was historically cleared for cane farming, and the removal of vegetation has had a major environmental impact, not only in terms of the loss of carbon-capture potential, but also loss of biodiversity, reduced water quality and erosion issues.
Participating in reforestation activities and experiencing first-hand how carbon credits are measured helped me gain a tangible understanding of what happens when you purchase a carbon credit, as well as the many positive impacts this has for the environment. The process of measuring and auditing is rigorous and emphasised to me that when you buy a carbon credit there is a really high level of integrity in terms of the process and the scientific outcomes.
How has Allens improved its sustainability this year?
I'm proud to work for a firm that takes sustainability seriously. We've been certified carbon neutral since December 2014 and we were the first Australian law firm to achieve certification for our Australian offices through the Government's Carbon Neutral Program.
As part of our carbon-neutral strategy, we aim to take action to reduce our emissions, and then measure and offset any residual emissions by purchasing carefully selected, high quality carbon offsets with co-benefits that align with our broader community engagement objectives (such as our RAP commitment to invest in commercial relationships with Aboriginal and Torres Strait Islander businesses).
Last This year we added another Indigenous Carbon Farming project to our portfolio, the West Arnhem Land Fire Abatement project in the Northern Territory. This project has seen Indigenous fire managers and their partners in Arnhem Land successfully reinstate customary burning practices producing significant social, cultural, environmental and economic benefits for Indigenous landowners.
In terms of our day-to-day office activities, we reduced energy consumption in our Australian offices by 24% last financial year. This was largely the result of switching to LED lighting in Sydney and rolling out new energy-efficient laptops and dual screens across all offices.
Our new laptops have also helped us adopt more paper-lite practices. I am increasingly observing our lawyers bringing their laptops to both internal and external meetings, which has the dual benefit of avoiding the need to print relevant documents to take to the meeting and avoiding the production of unnecessary paper file notes from the meeting. We managed to cut paper use in our Australian offices by a further 10% last financial year, which builds on even more significant reductions in the previous few years.
Another key initiative that has improved sustainability in the Sydney office has been the introduction of recycling for disposable coffee cups, which was also introduced in Melbourne in 2017. Working with our Sydney office building manager, Investa, we introduced the Simply Cups recycling system to prevent our disposable coffee cups ending up in landfill. We also offered staff a KeepCup discount to encourage more people to use reusable cups. Australians use an estimated one billion takeaway cups every year, so it's a massive source of waste.
To read more about the community work we have been involved in, view a collection of highlights on our IMPACT page.