Flexible working: our stories during COVID-19
With 2020 well into its third quarter, we have now been working remotely for more than 120 days! For most of us at Allens, working from home has become the new normal.
As the situation evolves, we are conscious that each state will have a different experience, as some of our offices re-open and others remain closed. Everyone has experienced significant change and felt the effects of COVID-19, with each of us finding and adjusting to our new normal at both a professional and personal level.
At Allens, we live and breathe our 'in it together' value, and although many of us are missing the social aspect and structure of being in the office, we are staying connected and supporting one another. To give you some insight as to what this looks like in practice, we've asked three of our junior legal staff to share their COVID-19 experience.
Jacob Briggs, Law Graduate – Brisbane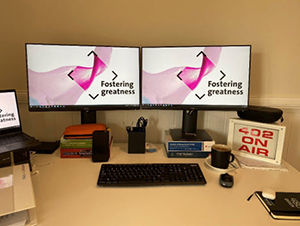 How has your work changed since COVID-19?
The most obvious change has been working from home rather than the office. Less face-to-face contact is another big change, but an increase in Skype, Teams, WebEx and similar video calls has somewhat filled the void. As a 2020 Graduate, we were only in the office for one week before COVID-19 forced us from the office, so working from home feels somewhat normal for us!
Favourite thing about working from home?
Avoiding the commute (particularly in winter!) and getting to spend that time with my family.
What's one thing you've found challenging or surprising?
The thing I have found challenging and surprising is the impact of not having much transition time between home-work and work-home. When working from home the 'distance' between finishing work and then being home (or vice versa) is essentially nil. I think I underestimated the role the commute played in switching between modes. Replacing this time with some form of routine activity or ritual has been an important part of making working from home work for me.
What's your workspace space like? Is there a random object in your WFH space?
My workspace is a pretty simple setup in our spare room - the single coffee cup hints at the picture being taken at the start of the day. The 'On Air' sign is my random object. I got this from Brisbane's old ABC radio studios when they were being demolished. Presumably it used to light up to show when the famous studio was broadcasting, now it serves as paperweight and stand for my headphones….quite the fall from grace.
Ebony Back, Lawyer – Perth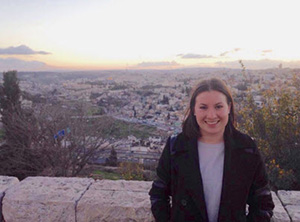 How has your work changed since COVID-19?
Overall, I've found the matters I'm working on have continued seamlessly even through COVID-19. The Allens IT team did an excellent job of ensuring the firm had video conferencing and online modes of communication which replaced face-to-face communication. This allowed us to reach out to clients and conduct witness interviews while working from home. Beyond changes in how we communicate, the biggest change to my work was that many clients were suddenly confronted with questions about the legal and regulatory impacts of COVID-19. For example, I spent time researching and drafting advice on questions around leases and tenancy laws in light of the new legislation introduced by many states around Australia in response to COVID-19.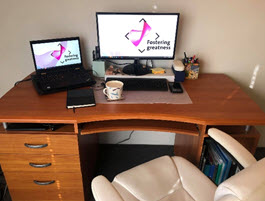 Favourite thing about working from home?
My favourite thing about working from home as been ditching the commute. No more commutes on the train into the city in peak hour traffic. It not only saves time (and gives me an extra half hour of sleep), but it's been heartening to hear how less traffic on the road has resulted in measurably lower vehicle emissions and cleaner air around the world. Working from home as also encouraged me to try to get out and make the most of going for a walk or a run outside - a few positives during this tumultuous time.
What's one thing you've found challenging or surprising?
The biggest challenge was feeling connected and missing my work mates. I had just rotated into the Projects team when the pandemic hit. Being involved with a new team and starting on new matters required a slight adjustment in order to stay in touch with everyone and make the most of new opportunities. However we quickly found a number of creative ways to keep in touch including online quizzes and virtual Friday night drinks. Recently I have been spending more time back in the office and it has been delightful to see colleagues in person and catch up over a coffee.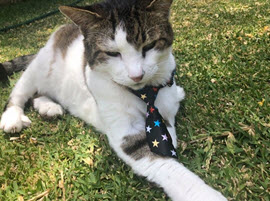 What's your workspace space like? Is there a random object in your WFH space?
My workspace is tucked away in a small room upstairs in our house (as far away from the kitchen as possible to try and avoid unnecessary snacking). Allens was generous enough to set everyone up with a home office when the pandemic started, so I am extremely grateful that I now have everything I need to work efficiently from home. I try to keep it simple and organised. There aren't any random objects in my work space, but I do have a somewhat noisy "co-worker" who has interrupted a few Skype calls and Microsoft Teams meetings (a photo of him in his office attire is attached).
Rachael Short, Head Paralegal – Sydney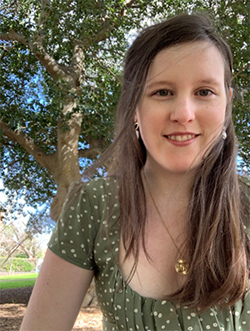 How has your work changed since COVID-19?
Definitely a lot more Skype meetings and phone calls now. I hadn't realised just how often I head into people's offices to talk about what I'm working on or discuss different approaches. I'm someone who works best in a team and likes to talk ideas through, and I really value how approachable people are and how many open doors you see around the floors at Allens. It was a weird adjustment to feel equally comfortable picking up the phone, but after a few months it's starting to feel more natural.
Favourite thing about working from home?
Weather and wifi strength permitting, being able to work outside when I've spent too many days in a row stuck inside.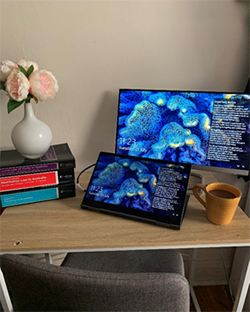 What's one thing you've found challenging or surprising?
It can be a lot harder to feel like there's a separation between home and work when you spend (nearly) all your time in the same place, which was a bit of a challenge at first. Now I like to go for a run around my suburb when I've logged off for the day so I feel like there's a more clear divide between my work or uni day and the rest of my life. It's otherwise really easy to not notice if you're overworking yourself.
What's your workspace space like? Is there a random object in your WFH space?
My workspace isn't quite as pretty as most people's, since it's a corner of my room in a very small share house – all the more reason to be grateful I can work out in the sun now. The books double as a surprisingly good standing desk, and when they're set up for that they're probably the most random item.
We understand these are challenging times, and encourage you reach out to others or feel free to access the below resources if you would like additional support:
Watch this video - Mitch Wallis is the founder of the mental health organisation Heart on My Sleeve
If you have any questions, please contact us at student.careers@allens.com.au.