Allens Confidential podcast
Your past is your secret weapon: non-traditional pathways to a career in law
Getting a job at a top-tier law firm can feel like an impossible prospect for a candidate whose school and uni results don't look a certain way on paper.
How does it work if your background, education or experience don't match the stereotype? Caitlin and Will catch up with Grace Stals, head Paralegal in Sydney, and Manreet Singh, National Manager, Early Careers, to explore contextual recruitment, diversity and the industry-wide challenge of attracting the best candidates from different backgrounds.
Grace shares her experience of overcoming hardship to make it through uni to a top-tier firm, and Manreet discusses what Allens is doing to make sure the best candidates make it through the process. Find out more about our clerkship application process, including our optional diversity assessment.
What did we talk about?
Overcoming challenges, including imposter syndrome
The importance of diversity
The use of RARE, a contextual recruitment tool that helps identify high potential candidates from diverse backgrounds.
This episode is part of our 2021 series.
Listen to the episode
Caitlin Burke This episode of Allens Confidential is produced on the land of the Gadigal and Wurundjeri peoples. We recognise the traditional owners' continuing connection to land, waters and culture and pay our respects to their elders past and present. We extend that respect to any Aboriginal or Torres Strait Islander people joining us today.
Will Berthelot Welcome back to another episode of Allens Confidential. My name is Will, I'm a disputes lawyer from the Sydney office, currently on secondment at the Refugee Advice and Casework Service. As always, I'm joined by my wonderful co-host, Caitlin, who is a lawyer in the technology, media and telecommunications team here in Sydney.
Caitlin Burke Will, not everyone's path to law is the same and nor should it be. On today's episode, we are looking into the concept of contextual recruitment. How important is it to understand an individual in the context of their educational, cultural and socio-economic background and their life experiences.
Will Berthelot So, this episode, we are taking a look at some exceptional stories and seeing how Allens is addressing the industry‑wide challenge of identifying determined, resilient outperformers from many different backgrounds in graduate recruitment.
Caitlin Burke Today we're joined by two very special guests: we have Grace Stals, our Head Paralegal in the Allens Sydney office, and Manreet Singh, our Early Careers National Manager at Allens, based in the Melbourne office.
Will Berthelot So, guys, it is a customary tradition of guests on the program to talk about your favourite podcast before we kick off. So, Grace, I might throw to you … are you listening to any podcasts at the moment; what's on your playlist?
Grace Stals I am an absolute diehard She's on the Money fanatic, so for those of you who don't know, you should know, She's on the Money is essentially a conversation with two girls, who seem like they're just two girlfriends, about basic personal finance, which is very apt and relevant for me, who has the financial literacy of a potato but I'm slowly getting there; I'm learning about my investments, I'm learning about my savings, it's been fab. So, that's what I've been listening to.
Caitlin Burke Does that teach you what the stock market is?
Grace Stals It does.
Caitlin Burke Should I be picking up on this?
Grace Stals You should. If you're not on it, you definitely should because, I don't know, Victoria Devine just unpacks things so neatly and I now understand everything I need to know about investing.
Caitlin Burke Okay, I need to get on to this.
Will Berthelot Downloading that after this ep. And, Manreet, do you have any favourite podcasts as well?
Manreet Singh I was going to say I should take a leaf out of Grace's book. I'm listening … the most recent podcast I listened to was one of the Australian Finance Podcast episodes, which sounds really boring in comparison to what Grace has just said. I'm not a huge podcast buff, admittedly, but this episode I listened to was about growing a brand on social media and side hustles and things like that, which I found pretty interesting and resonated.
Caitlin Burke That sounds very cool. I've always wanted to have a side hustle but I feel like it would be in something very tragic, like felting or …
Will Berthelot Arts and crafts related.
Caitlin Burke Exactly, like a little Etsy shop. They sound like great podcasts and very informative and things that I definitely should be turning my mind to at this stage in my life.
Will Berthelot That's something I should definitely already know. I'm in my mid-20s.
Caitlin Burke Grace, to start with, you are the Head Paralegal in Sydney. For those of our listeners following along at home, what does that mean?
Grace Stals So, the Allens' offices nationally resource paralegals who support our legal team with any kind of tasks that they need. So, my job as Head Paralegal is to manage the Sydney and Brisbane team of around 50 paralegals. So, helping those guys effectively cater to whatever the legal team needs, which sometimes is a bit chaotic and sometimes not. Mostly chaotic but …
Caitlin Burke So, for most people, I suppose, at your stage of a career who are also studying at the same time, managing 50 people and a major law firm, the demands are not naturally something that people would come up against. How do you manage that?
Grace Stals Yeah, look, it's not something that came naturally to me and I'm still definitely working on trying to be, I suppose, a good leader for paralegals who are essentially my peers as well. But I think all you can really do is just be yourself and just be honest and upfront. Everyone gets the difficulty of working under time pressure, so I think, yeah, slowly getting there.
Will Berthelot I can imagine it's very demanding, like herding cats at some point when there's like 50 students who all have exams and holidays and things coming up.
Grace Stals Absolutely. You really don't want to be, like, mean to your friends either, so I can't crack the whip too harshly when people are slacking. Kind of, like, guys, come on, you really need to pick it up a bit, but …
Caitlin Burke You're the people's Head Paralegal.
Grace Stals You heard it here.
Caitlin Burke So, to jump back a few years, though, how did you come to the law; was it something you always wanted to do?
Grace Stals So, I came to the law in a bit of a different pathway to most people. In high school I always knew that I wanted to do law, weirdly. I really loved debating, really loved English ... that was always kind of my thing. I remember driving past U Syd and being, Yeah, those sandstone buildings, like, that's me in Year 10, which is super nerdy and lame now.
Will Berthelot No, we love that.
Caitlin Burke Shoot for the stars.
Grace Stals Probably started taking it a bit more seriously in Year 11 and 12 and I was having, I guess, a lot of ongoing kind of family issues and I ended up dropping out of high school in Year 11 and doing a TAFE diploma in journalism to get into law school instead, so from that I realised I did not want to be a journalist, I have no interest in dealing with people's real issues. I have interest in dealing with people's commercial issues. So, fast-forward, I got into UTS law and am doing social and political science with law. In my final year now, writing my thesis next semester, and here we are.
Caitlin Burke Wow. So, how did that initial experience spark your kind of journey into a pathway that, traditionally, school finishes, go straight to uni, how was that navigating that path?
Grace Stals It was a really tough period for me because, obviously, going to law school was something I always really wanted to do and being … I felt like I was really set back by dropping out of high school and that was really hard for me to navigate. I think the overarching reason I kind of wanted to come to law school, I should probably mention this, I had a volunteer lawyer from the welfare rights centre help me access youth allowance on Centrelink when I was previously rejected, and at that stage I was kind of experiencing a bit of homelessness when I just dropped out of high school and really needed that income support, and this lawyer helped me take Centrelink on and I ended up getting my youth allowance, yay, happy days, but I think that really solidified my interest in law by seeing how it could, I suppose, really transform people's lives, and, I think, the setback of dropping out of high school kind of felt like I'd failed in a way that dream, even though I'd overcome so much and I'd finally thought I'd made it, to have that other setback, it was, like, wow, you know, life just doesn't stop, it keeps going, and I think getting into TAFE was also a bit of a blow because I felt like that wasn't … I suppose as prestigiously looked upon as going to high school and then going to university, which is a bit snooty and weird to say aloud.
Caitlin Burke It's really important, I think, to recognise and hear stories from people that don't take a traditional path, also because these are the kind of resilient outperformers that usually go very, very far and that's case in point sitting right in front of us. One of the most amazing Head Paralegals we've ever had. So, Will, were you going to ask Grace a little bit about uni?
Will Berthelot Yes, so, obviously, transitioning to uni is hard for many students, it's a huge culture shift, often people move out of home or move into the city, so what was transitioning to uni for you like. Obviously, you've just touched on, kind of, what the process was in getting into it, but was, kind of, you know, going back to first year, what was that experience like, now in a university environment, and having, you know, some experience of the legal system already under your belt?
Grace Stals Yeah, it was really, really tough. It was, I think, the hardest part for me academically was not having just come off exams, so TAFE was much more laidback than the HSC, so I didn't have that kind of preparation going into it and I suppose, personally, from a social perspective, I really felt like I needed to prove myself to my friends and family because I did drop out of high school and, you know, I did make that decision, so going in I had, like, really high expectations of myself academically and that I was going to be, you know, captain of the mooting team. I don't know, do all of these things, president of the law society, and then it kind of didn't work out that way and my grades were very average, probably below average, and I was really freaking out. I kind of had a moment at the end of my first year where I thought I would even drop law because I just thought I couldn't actually do it. I think I was very lucky to have a strong network of friends by my side who really helped me through; even though we were all kind of failing our first year together, it was still just nice to have that shoulder to lean on. I think, as well, something that I always think I've been quite good at is reaching out to people, and I guess when you come from an under‑privileged background, you kind of need to be a bit pushy and ask people for help, and I've never been afraid to do that. So, I think, just asking the right people, being really open about needing support, really did help me a lot in my first year and to eventually get better marks and settle into uni a bit better from then on.
Will Berthelot That's so true, I mean, it is just really clear that a lot of the time you overlook in those first years what importance friends have, in a social sense, and not in a sense of, like, these are the people that are going to be able to get me from where I am now to, you know, my first grad job or, you know, and stay with me for, in many cases, for the rest of your life. And I think being proactive in the way that you said also, in reaching out to other people, whether it's recruiters or reaching out to companies that come on to campus, also makes such a difference, even though it seems like quite small steps at the time, I think.
Grace Stals Yeah, definitely. I think a girl, or a woman I should say, who actually introduced me to Allens and suggested I should apply to work here went to my high school. And even though we weren't friends in high school, the fact that I just reached out to her and was, like, Oh we both do law, would you like to get a coffee some time, in my second year, has not only forged what is now one of my best friendships but allowed me to essentially get here as well, so I think you never really know the connections that you have until you ask, until you kind of knock on those doors.
Will Berthelot Exactly, everyone has a background that you don't know about and it's things that an amazing amount of knowledge that if you just ask you can find out and, I guess, touching on that a little bit more, you mentioned that you were kind of introduced to the firm for the first time by friends. What was transitioning to working in law like; so, did you work in law while you were at uni or was Allens kind of your first foray into legal work?
Grace Stals So, I started working in law before I started uni. I did my Year 10 work experience with a criminal law barrister and, again, just kind of cold-called them and was, like, Look I'm about to start studying law and I want experience, let me work for you, I'll do whatever you need, I'm a good worker, and since then I've worked in a smaller family law firm, I've worked for a commercial barrister, and now here. I think that legal experience has largely come from me just persisting and pestering people, which I think is really good. I feel like you should never, yeah, never be afraid of just calling people and saying, I saw your LinkedIn post and I think you're cool, let's get coffee, or I think you're a great lawyer and I love this case you worked on, let's chat about it. I think some of those random things that I thought at the time were completely, like, the most audacious things I've ever done actually got me so far and so much further than an HD on an assignment, yep.
Caitlin Burke And the thing is once you're on the other side of it, even being a very, very junior lawyer, it's something that's always received so well when someone reaches out to you, there's never the reaction of Oh God, I do not have time for this. That's just not, it's exciting when young people want to learn more about the law, and so to anyone listening that's thinking about it, that is feeling that hesitancy that Grace describes, do it. When you came to the law, was there ever that kind of hesitancy or self‑doubt, did that ever get to you in a way that, you know, nearly stopped you asking or doing something or applying for something?
Grace Stals Honestly, all the time, all the time. I think imposter syndrome is a huge thing for me, and a lot of women in law and men in law, but I never really, truly believed that I think I could naturally do something, and that it would always somehow be, like, a fluke or, you know, just an absolute coincidence that I got here, rather than my own actual kind of hard work and merit as a person. I suppose dealing with, and I still struggle with imposter syndrome sometimes, but it's hard because when I applied for Allens and went to apply for this job, I remember thinking Oh, I actually just don't think I belong in a top-tier kind of commercial environment.
Caitlin Burke So, you effectively screened yourself out?
Grace Stals Yeah, pretty much. I suppose I just didn't think that I would be the right cultural fit, I'm not, kind of, I don't know, I feel like I'm a bit of a bogan, I like the NRL not the AFL. I drink tinnies, I don't know, I just wasn't sure if I would be the kind of the right fit for a place like Allens and then my friend who did work here was so lovely and so kind and I thought Oh, she can't be the only person in this huge firm that's this lovely and that's this laidback and chilled, and then I was, like, okay. I better just give it a go and I'll throw my hat in the ring and see what comes of it and, obviously, here we are.
Caitlin Burke Here we are.
Grace Stals But, yeah, I think it just, I suppose the idea of imposter syndrome really just reflects people from under‑privileged backgrounds being kind of told over and over again that they are not good enough and that they are lacking in some quality that people who are not from that background don't have, so for me it's that maybe I'm a bogan and have a bit of a rough accent sometimes, but on a more serious level it can be the fact that ethnically I appear differently or things like that, so I think it's a real problem for the industry trying to, I guess, overcome those hurdles.
Caitlin Burke Yeah, absolutely. So, Manreet, this might be a good point to get your insights. Lots of people think there's a typical candidate for graduate recruitment in law with certain cut‑offs and, you know, particular unis that they have to have gone to and work experience that they have to have had, is that really the case?
Manreet Singh Look, absolutely not, and I think if it was that would go against everything we've just been telling students out on campus at universities over the last couple of months. We see a lot of candidates self‑selecting out of the process pretty early on in our clerkship recruitment process and that could be on a number of things. Some of the examples that Grace spoke about but also things like what university they went to, what their background is or their upbringing and the fact that we're a top-tier firm, like, Grace spoke to her example of she almost didn't apply because we were top tier and, really, we aren't that scary, right; like, diversity is so important, and to your point around cut‑offs and weighing certain aspects of the application and viewing things differently, we absolutely don't have any type of cut‑off or view anything in any more favourable light than the other. We certainly do take a holistic view of every application and, yes, we do sit there and read each and every application. I often get asked do we have some type of software that picks up on certain words in CVs and cover letters; no, it's me and my team reading every application, and that's really what is going to get you through because you need that human element to read and consider the application as a whole and the context sitting around each candidate.
Caitlin Burke Yeah, absolutely. It sounds like it's quite a complex dilemma to really pick up on some of those contextual insights that might inform recruitment. I know you mentioned that you sit there as humans and look at each piece of paper holistically, each application, but are there other measures that Allens are using to go beyond kind of our own human capacity to pick up on certain metrics?
Manreet Singh Yeah, definitely, so, like I said, we don't want everyone to look the same or to have the same background or pathway into law, and making sure that we have a cross‑section of diverse educational and socio‑economic, gender, cultural, etc, different backgrounds is really important in building that talent pipeline. So, one way that we do this is by using a contextual recruitment system in our clerkship recruitment process, which is called RARE and that really helps to level the playing field for all of our candidates. So, a bit about the tool; so, Allens was the founding partner of RARE in Australia in 2016, which we're really proud of. It is an optional part of our application process and it allows recruiters to understand a candidate's achievements and experience in context. So, to dive a little bit deeper, the system essentially is measuring two things, the first one is disadvantage and the second is academic outperformance at high school. So, if a candidate was to opt in to the recruitment system, information is collected at the application stage on various different data points, so things like your educational and financial background, an indication of any personal circumstances that you had, so, for example, caregiving or care receiving, among a lot of other categories, and this data is then used to screen candidates in, and I think that's the important point. We're not using the tool to rule anyone out. So, the way that we use it in our process is that we screen all of our applications as we normally would, we don't even look at the RARE data at this point, to make sure that we're viewing each application independently. Once we've done that, we then have a look at the RARE data.
Grace Stals So, Manreet, I remember when I completed the RARE application as part of my pathway to Allens, some of the questions that I think I answered were, how many hours I worked in my final year of high school, if I'm from an Aboriginal or Torres Strait Islander background, caregiving responsibilities. I also mentioned an underlying medical condition that I had, which is kind of relevant to my grades. I think I also mentioned a family circumstance which really attacked my grades in my second semester of first year, and I think that was really helpful for me because it explained why I had this pocket of kind of terrible uni marks which were just not very good, but they were – like, there was a basis in those, it was because I was experiencing other kinds of hardship at the time, and I suppose that just, for Manreet and for the careers team at Allens, allows them to see why, like, see why that's happened and kind of shows that it's not, it's not really on me, it's on something else.
Manreet Singh Yeah, absolutely. And we see that all the time, well, quite often, Grace, like, you're certainly not the only one that had certain circumstances that makes you totally flop one semester at uni, and that's one of the reasons why we can't have cut‑offs of grades because that's obviously going to have brought your WAM and GPA down, but by allowing us to have that context around what was going on in your life just makes us make a more – allows us to make a more informed recruiting decision when we're reviewing all of our applications.
Caitlin Burke Yeah. Because I can imagine that if you were looking for only perfect marks, sure you would get academic high achievers, but how much would you lose in people with real-life experience and serious levels of resilience, and we need that, and it makes for a better firm.
Will Berthelot Definitely. So with 'RARE', I mean, I'm not super familiar with the tool myself and that maybe that's part of the process, in that students might not know it's affecting their decision. So, Manreet, do students know if RARE is helping or, you know, the application, is it something where students are told whether it might help or detract from their application, or is it something that's kind of going on in the background from your end and isn't as visible to the students?
Manreet Singh Yes. So, it definitely is going on in the background. So, as I mentioned, it's optional for the student to opt in to the RARE tool, and we only use it once we've done the initial screening, as I mentioned, and then beyond that, it really is just a screening-in tool, so we don't even share that information to the interviewers; so, no partners or lawyers or buddies or anyone else in the process has that information, and for a couple of reasons. The first one is obviously confidentiality, the candidate's sharing some pretty personal details with us. The second one is to rule out or prevent any bias in the interview process as well, because I imagine if someone's gone through quite a lot of hardship, reading that could lead to some bias in the interview process and beyond.
Caitlin Burke Yep. That's good that it doesn't kind of stop at the tool, but you're looking at how it might impact human decision‑making beyond that, and limiting it to only being an opt-in advantageous value-add tool rather than something that could potentially detract from a student's application, that's really interesting. Grace, you say that your past is your secret weapon, can you tell us about that?
Grace Stals Yes. So, I think, my past, I suppose the adversities that I've overcome to get where I am, so, for example, I've experienced homelessness and family violence, and those things are really, really awful things, but, unfortunately, really common prevailing realities growing up in Australia. And I think it's my secret weapon because when you are able to capitalise on those hardships and turn that into resilience, it really is a unique thing that you have that no one else has. So, in a weird way, it's kind of the best possible competitive advantage that you can have in a workplace, but also as a human being, you are able to just relate to others in a way that I think you might not be able to if you didn't have that kind of shared adversity that you had overcome with other people. So, I think, practically it helps me get the last bit of work out when I'm working late on a deadline, which is hard, but then socially and personally it kind of just allows me to connect with other people, I think, and really empathise, I suppose, with other people's difficulties.
Will Berthelot Definitely. And I think people a lot of the time when looking at corporate law recruitment and things like that, overlook things like EQ or emotional intelligence, or how important those things are in your career. Like, every day in a corporate workplace, you're talking with other people, you're always working in teams. Often the more senior you get, you're talking with clients, and those aren't going to be exactly the same type of person, and if you're someone who is, you know, funny and relatable and human, those make you a far better lawyer and also, like, a really interesting and lovely person to be around, and I think people often overlook that in their skills when considering whether they would fit in in a corporate workplace. And I know that your story must reflect – lots of people listening at home, that they've had disadvantages growing up in their background. Manreet, when we're looking at diversity in the workplace, we've talked about how we're using different tools to try and increase it, but from your perspective, what is the importance of having more people from backgrounds like Grace's, or more people from diverse backgrounds in a workplace like Allens?
Manreet Singh In short, diverse people are going to bring diverse perspectives to the table as well, and that's really what we want to see. We say it time and time again, every year, we don't have a cookie-cutter type, we don't want candidates to feel like they need to conform to a certain way or act or look a certain way or present themselves in a certain light in interview, and we can actually pick up on that, when we're going through the recruitment process. So, really, we just want candidates to be authentic and true to themselves and own their story. You know, like Grace said, her past is her secret weapon; like, own it, this is authentic to you, and that's really what we want to know and we want to get to know you.
Will Berthelot Grace, for you, I mean on a personal level and a level as someone who works in this firm, while we're trying different tools and it's not a problem that's fixed overnight, what would it mean for you to have a more diverse workplace or a workplace that's trying hard to try and, you know, overcome some of these challenges that are industry wide?
Grace Stals I suppose, personally, on a day-to-day level, it's nice to just have people who share your values and share, I suppose, similar experiences to you; that just makes it an easier place to come to work every day, right. But then, in another way, you also want the profession that you're a part of to actually reflect the people that it represents. I think that being able to get more diversity in the legal profession at a commercial level, in family law, in criminal law, I think that that just makes for ultimately a better society, which is why we all started law, right; like, it will just necessarily will give better outcomes for our clients no matter what part of law we're in if we have a diverse workplace representing those interests.
Will Berthelot I totally agree, and exactly as you say, the more people that we get in companies like these and companies across Australia that are reflecting the people they are helping, the better that legal advice is going to be, and we can inch closer towards a more perfect profession.
So, thanks, both, for your time, that was an excellent episode. I know I learned a lot and I'm sure, Caitlin, you did too.
Caitlin Burke I certainly did.
Will Berthelot And for being so honest and forthcoming about your story, Grace, and for your insights, Manreet. And thank you to all those
listening at home, on the train, wherever you are, thanks for tuning in and we'll see you again next time.
About the presenters: Caitlin Burke and Will Berthelot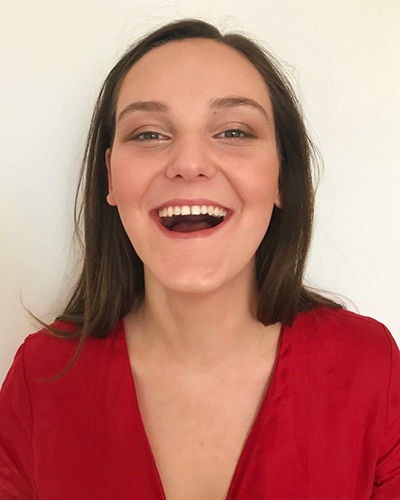 Caitlin is (allegedly) a Lawyer at Allens. She joined the firm as a clerk in 2017, before running away to join the circus for a few years and returning like the prodigal son to the Disputes and Investigations team in 2020. Caitlin studied at the ANU and exercises her right to embarrass herself daily; at work, in the streets and on the dance floor - sometimes simultaneously, but always with a smile.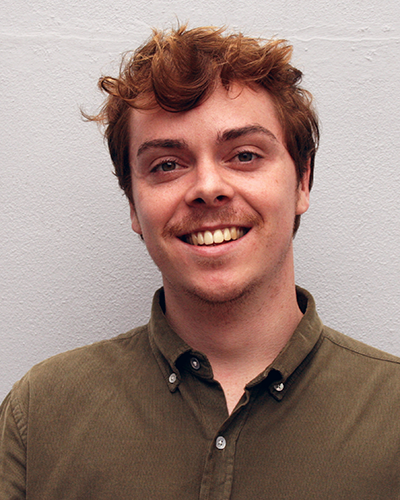 Currently on secondment with the Refugee Advice and Casework Service, Will is a Lawyer in our Disputes and Investigations team and studied at UNSW before joining the firm as a summer clerk in 2017. Will enjoys trying (and failing) to recreate recipes from TikTok and binging trash-tier Netflix series.