Allens Confidential podcast
Keeping connected during COVID-19
In a wide-ranging chat with Geneva Sekula and new co-host Caitlin Burke, Partner Tim Stewart and Lawyer Claire Watson discuss working remotely during the COVID-19 pandemic, from admiring colleagues' pets to growing bad beards.
Tim and Claire recount their experience of the firm-wide transition to working from home; and explore how they, and Allens, managed to mainintain 'business as usual', and the different ways they helped clients navigate uncharted territory. Too, they share tips on remaining connected and engaged, and reveal the power of a 'smile file'.
What did we talk about?
Different paths to success as a lawyer
The impact of COVID-19 on client work
The transition to remote working
This episode is part of our 2020 series.
Listen to the episode
Geneva Sekula Good morning, everyone, and welcome to another exciting episode of Allens Confidential, coming at you totally remotely from the comfort of our own homes for the very first time. Today we are joined by Tim Stewart, who is our Sydney Staff Partner, banking and finance expert extraordinaire and, actually, probably your most notable role, Tim, my second-round interviewer during the clerkship season back in the day. We are also joined by Claire Watson, who is a lawyer in our Disputes and Investigations team. She's taken on a bit of a new role in this new COVID-19 world, which we are going to dig into over the course of today's episode, and you should all get very excited for that because it's extremely interesting. And we are also joined by someone very special, Caitlin Burke, who is a first year grad in our Disputes and Investigations team, who is in fact not a guest but our new co-host.
So, it's with a very heavy heart that I let everyone know that Rose has finished up her leave of absence from the firm but has decided to try something new and will not be returning to Allens, but of course it does not matter where she works, Rose is always a much-loved part of the Allens family and we are going to miss her very much. So, Caitlin, welcome, we'll just introduce you to everyone, I guess. Do you want to tell us a little bit about yourself?
Caitlin Burke Thanks, it's great to be here. I'm pretty impressed with the turnaround time it took me from entering the firm to having a vocal platform with which I will subject everyone to, moving forward. I am a fresh grad in the D&I practice. I clerked at Allens in 2017/18 summer, which is where I met you, and I met Rose and I met Lauren and, yeah, I am very excited to be a part of this creative outlet and I look forward to all the adventures we will go on.
Geneva Sekula Now, you actually had quite an interesting time before you returned to Allens. Because I follow you on Instagram, I saw that you had quite a fun year, so do you want to tell everyone about what you got up to between finishing uni and joining us at the firm?
Caitlin Burke Yeah, I did. I had a series of mental breakdowns that were manifested in an attempt to enter the amateur comedy circuit. It was the best year of my life. So I kind of went gallivanting with a couple of my mates from uni, when I knew I had the opportunity that Allens would give me to take the year off. Obviously, most people do really admirable things, like go to the courts and do other kind of endeavours in justice, whereas I decided that I wanted to financially ruin myself at the Edinburgh Fringe, which was an amazing time. So, yeah, a couple of mates and I from uni, we had always wanted to do it and we knew that if we didn't do it that year, it was like a bucket list thing, we'd never do it. So we wrote and developed a show and took it up, did a full run over 26 days, and then we also did our own kind of stand‑up stuff, so, yeah, it was a great time.
Geneva Sekula What was the show about?
Caitlin Burke It was the most chaotic and confusing piece of art – that's a stretch – piece of theatre that was ever written. It was effectively a group of people stuck in a bunker, which is now really concerning that we wrote that. They were trapped there for some time, isolating in a bunker.
Geneva Sekula Soothsayer.
Caitlin Burke I know, I know. It was, like, sketch comedy, so there were loads of different characters and we performed it in a tiny room in Edinburgh and made people pay ₤10 per ticket, which I still don't understand. It was so hot in that room and it was such a fire hazard, but we got through and we made it, and it was a great time.
Geneva Sekula Incredible. I mean, it explains why you're about 800 times funnier than me. So there's context for everyone as we move forward.
Caitlin Burke That's not the case at all and, like I was saying to you earlier, I need to apologise in advance for anything that comes out of my mouth on this podcast during this time because of my lack of human interaction. I'm quite frightened about the thoughts happening in my head, so I'm really just happy to be talking to people. Here it is, out for everyone to listen to.
Geneva Sekula Yeah, exactly. Let's get stuck into today's episode. A very warm Allens Confidential welcome to Tim and Claire.
Tim Stewart Thanks, Geneva.
Geneva Sekula I'll pose this question to everyone. It's our traditional first question and, Caitlin, if you want to jump in with an answer there as well, as a fun getting-to-know-you activity. What podcasts do you guys listen to? Tim, do you want to kick off?
Tim Stewart Yeah, well, I don't listen to terribly many podcasts but what I do listen to, when I sort of come in in the morning, to work in the mornings, is the Economist podcast and all the sort of variations of that, including The Intelligence, and one that I am actually really quite enjoying at the moment is The Secret History of the Future, which is the co-production with Slate which I think one of the earlier podcast guests, Sikeli, also referred to. I think it's a great podcast.
Geneva Sekula A strong recommendation there and how about yourself, Claire?
Claire Watson So, I'm probably going to take the tone down now. I love a podcast but I'm much more of a chatty, chit-chatty podcast listener. I think because I listen to podcasts when I am sort of cleaning the house, or driving to the gym, which I'm not doing much of lately. But things like that. I think I sort of felt like I need to put a bit more time between myself and uni before I can get back around the educational podcasts format. But, in saying that, Tim's really sold The Secret History of the Future, so maybe I'll give it a try and that will be my stepping stone back into that world.
Caitlin Burke So, I'm similarly, I would say, uncultured in the sense that I don't usually turn to podcasts for intellectual enlightenment but more to, I guess, switch off. I'm very into a podcast called Seek Treatment, and Las Culturistas, both of them by some comedians in New York. That's what I'm listening to at the moment, and I'm very happy to be here and sorry I'm not Rosanna Bricknell but I'll do my very best. Big shoes to fill.
Geneva Sekula Well, we're sad not to have Rose, but we are very, very happy to have you, so welcome.
Caitlin Burke Thank you.
Geneva Sekula I guess another thing that is really interesting for people to hear is the journey to Allens, because people take similar paths, they take different paths, and it's always nice to know how people got to be where they are, so, maybe, Claire, if you want to start, how is it you came to be at Allens?
Claire Watson Yeah, absolutely. So, I suppose I joined the firm in the conventional way these days. I clerked in the Brisbane office in the summer of 2017. I received a graduate offer in early the following year, and then I joined the firm last year in the Banking and Finance team. So, yeah, getting a graduate offer from Allens was a very big achievement for me. That was a really, really exciting time and, yeah, my first year in the Banking team was fantastic and sort of lived up to what I was expecting in law and all of that, and all of those things. I really, really enjoyed the kind of work that I did in that team. I think it's generally acknowledged that banking work can be very technical and quite … almost a bit difficult to understand at times, and as part of that, some of that work was extremely challenging, but I've had a bit of a moment to reflect on that recently and I think that a lot of the skills that I learnt in my time in that team almost feel like new tricks I can do now. It's a really cool thing to reflect on all the things that you can learn in a time that's as short as a year. So that was, and actually towards the end of my time in the Banking team, notwithstanding that I'm in Brisbane, I got the opportunity to work with Tim on a matter where he was the partner and it was a cross‑office sort of team on a deal and that was really exciting as well.
Geneva Sekula What's it like working with Tim?
Claire Watson Oh, Tim's great to work for because he just jumps on calls and listens and tells you what to do in the background on Skype. It's great. No, it was really, it was really good fun working with Tim on that deal. Ah, so, so, yeah, now I'm rotating. I'm in the Disputes team, as you said, Geneva. I sit in the restructuring and insolvency kind of stream. It hasn't been two months yet, so I don't have that much experience to report but so far I'm having a great time. It's interesting, at the start of last year, when I put my preferences in, the only thing I was certain of was that I absolutely had no interest whatsoever in litigation work, and by the end of last year I was absolutely rearing to get into the Disputes team. It's funny how things can change within a year.
Geneva Sekula Well, Tim, you've had a similar path, don't you, in terms of unexpected choices and where it went?
Tim Stewart Yeah, it is. And, just before that, I just want to pick up on what Claire said. I know this isn't a recruitment podcast for Banking and Finance but I think she did know that it was exciting, it was cool, and she mentioned really good new tricks, so, you know, that's something out there for all you listeners to bear in mind. Banking and Finance – exciting and cool.
Yeah, look, Geneva, I actually sort of had a pretty familiar route into Allens as well but it was somewhat unexpected. I did a combined engineering degree when I was at university, and by the time that we had sort of finished the four years of engineering I was sort of focused on engineering, wasn't really too familiar with lawyers or law firms. And I had a couple of friends who were working at Allens and they said there was a job for a paralegal, so I actually started at Allens as a paralegal in my penultimate year at university. It all happened a bit by accident but it was a very, very happy accident. So at the end of that year I did a summer clerkship and then was offered a grad position. But in terms of sort of how have I got from there to here, it's probably an interesting one because, as I said, I did an engineering degree, and I always thought I would be an environment planning or construction lawyer and actually did my engineering thesis on the law of tort in the construction industry. But when I was going through the summer clerkship program, I didn't know where else I wanted to rotate because I thought Well, I want to do is be an environment planning and construction lawyer, which was the same team at Allens at the time. And I asked the partner who interviewed me and she responded, 'Well, if you're pretty sure you know where you want to go – definitely do that as a rotation. But if you don't know where else you might want to go for a second rotation, then choose somewhere where you are pretty sure you don't want to go, because then, at least, if you have done that, it's only a five-week clerkship, it's not going to be too much of a problem for you, and then, at least, you have discarded one of the practice groups. So my father was an accountant and I couldn't think of anything more boring than Banking and Finance, so I said, 'Okay, well, that's great, I'll do a rotation in Energy Resource and Infrastructure and a rotation in Banking and Finance.' So here I am, 15 or so years later, as a partner in the Banking and Finance team. And I think it's a pretty good, pretty good story to highlight the fact that it's very difficult to know what you do on a day-to-day basis in a commercial law firm when you come straight out of university. It's why it's really important to take advantage of talking to as many people as you can about what actually happens on a day-to-day basis. And what I actually found in Banking and Finance was that there was a lot of the things that I really liked from my engineering in terms of the logic process, the problem solving that I really found in Banking and Finance. Probably, actually, even more so than some of the litigation work that I did in Construction. It's really important to understand that what you do on a day-to-day basis is not often reflected in the name of the practice group. The other good thing about being in Banking and Finance is it's an extremely transferable skill set. The process and the law that we do in Banking and Finance here in Australia is very similar to that that occurs in England and in Europe and in the US, so it's also a really sort of great grounding if you want to travel. Again, as I say, this isn't a recruitment podcast for Banking and Finance but that's another thing to add to your list.
Geneva Sekula The kind of work that you are doing, how does it look now? So, obviously, we are in the middle of a pandemic, you know, what's changed for you?
Tim Stewart Yeah, look, it's been, it's really interesting. So much has changed but then the whole lot hasn't really changed at all. You know, we are obviously all working from home, but to the greatest extent possible, we are trying to sort of maintain business as usual. We are lucky to have a whole lot of technology that enables us to do that. In terms of the actual work type, the pandemic is somewhat uncharted territory for the economy. There are a whole lot of our clients on sort of the borrower side and the lender side who are sort of trying to navigate some uncertain times, and that's what we are here to try and help them with. In addition to sort of just the normal contractual framework which the borrowers and lenders were operating in and, actually, everyone, businesses are conducting themselves in on a day-to-day basis, overlaying on top of that, are a number of different initiatives coming out of the Federal Government and the State Government and the various different governments around. The country are coming out with slightly different versions of government support and other assistance, and so, we are spending a lot of time at the moment trying to help our clients, not only sort of understand what the contracts are that they are subject to but also that legal and regulatory environment that is rapidly changing and developing at the moment. Which is something that Claire's been instrumental in helping the business achieve.
Geneva Sekula Excuse me, these are our segues, so …
Tim Stewart Sorry.
Geneva Sekula Which is something that's been instrumental that Claire's been doing.
Claire Watson Nice.
Geneva Sekula Seamless.
Claire Watson That's absolutely right, Geneva and Tim. Love you, credit both ways for that clever segue. I have taken on a bit of a close role engaging directly with the COVID-19 pandemic in a few different ways and they have all come about somewhat randomly. One of the main things that I am doing in particular is I've been providing real-time updates to the COVID Working Group within the firm, which is just sort of an internal email distribution list, as well as the partnership, which just is a summary of the press conferences held by the Prime Minister, various senior ministers in the Federal Government, as well as the various Premiers and Chief Executives of all the states and Territories. So I, literally, during my day, have the news on, on my personal computer off to the side in my little home office, and keep an eye on any press conferences and major announcements that happen throughout the day which relate to COVID-19, which is all of them. And when they happen, I take notes really quickly, just summarise what's happened, particularly take note of all the questions that are being asked by the journalists, and send that around to everyone. And it's been, it seems to be quite a good way for the partnership and the working group to sort of stay on top of everything that's announced as it happens. Almost, potentially, before we even get that news on your traditional news outlets. It kind of came about a little bit randomly because I was actually watching my fave show, Married at First Sight, a few weeks ago on the weekend. So on the Sunday night, Scott Morrison interrupted that viewing with a press conference, which we now will probably all remember as the iconic press conference where he referred to 'barre', as 'barray', which was a bit of a cringe, so that popped up, and I knew that some people in the teams, and partners in particular, were trying to keep track of these things and I happened to have my laptop nearby. So I just grabbed it and started taking notes, sent them around, got feedback that it was really useful, so figured I should keep doing that. So that's the main bag that I've been doing that's just something that I do on the side of my ordinary work, and I have also been helping out with a lot of publications that Allens has been putting out and a lot of that material is available on the website, and, like Tim said, we are also doing a lot of work that's directly advising clients as to how a specific direction or announcement, or a specific power that the Government might access, might become relevant to that certain client's particular business and its particular needs. So there's a ream of things going on at the moment that are very much directly related to COVID-19 that's almost becoming its own little practice in a way.
Geneva Sekula Do you have a favourite press conference moment aside from 'barray'?
Claire Watson That's a tricky one. 'Barray' was a bit of a car. In doing these I bounce off the partner Emma Warren in the Melbourne office pretty closely, we communicate all the time about them. For Allens purposes, when we are in work mode, we really just care about whether we are going to get the code of conduct about leasing negotiations today or will it be tomorrow or will it be the next day. The journos just don't seem to care as much as I do about my stuff, so that's a bit of a highlight.
Caitlin Burke Claire, have you found that your intense consumption of current affairs at this time, has that had an effect on you? I mean, for me, I have kind of a sadistic relationship with the ABC live news blog, and so I kind of like to wallow in that immense anxiety when I'm feeling particularly low, so has that been the case for you or have you had another experience?
Claire Watson I am conscious of not saturating my brain with COVID but that's a bit difficult to avoid. But, as I say, I think having a bit of a proactive role makes me feel like it's not just all happening around me, when I know what's going on and people ask me questions and I can say, 'Oh yes, so the current status on the restrictions in this state is this, and you can go and look it up further through here.' I feel like I'm involved and not just letting this thing happen. So, in a funny way, it's kind of helped.
Caitlin Burke You feel like having read that and consumed that information, you are doing something that's contributing to other people and pragmatic handling of it, rather than me, who just stares at a wall after reading it. That's really good.
Geneva Sekula Every time they used to announce there was a press conference, I was like 'Oh God, what now; like 'What comes next?'
Claire Watson I just run and drop everything, and run back to my desk.
Caitlin Burke That's great, that's the healthiest approach I've heard so far. Well done.
Claire Watson Thank you.
Geneva Sekula And how was your experience for both of you been switching to working from home? How have you found that transition?
Claire Watson Yeah, I suppose the transition hasn't been too much of a struggle for me because I'd actually had work-from-home roles during uni. I had a bit of a set-up already. I did have to get a monitor again, but apart from those technical bits, coming back into that routine wasn't too bad, and I've definitely got a nice work from home routine down pat now. I get up at the normal time, do some yoga or some exercise in the morning, go for a walk, get a coffee and then settle in for work. And now that I've got that all under control and all my tech is sorted, I'm actually quite enjoying it. It's a bit of a silver lining to all of this, and I recognise that we're really fortunate that we've been able to do it and things are largely business as usual, but it's not been too bad.
Tim Stewart Yeah, and like Claire, I actually found the transition not too challenging. I'd worked from home quite a bit beforehand, so I did have a set-up ready to work. The firm had been supporting people working from home for sort of 12 to 18 months and there was a really rapid ramp-up of that. You know, in terms of, for me, I am working from home and there are four other co‑workers here, my wife and three young children. We've occasionally sent office-wide emails about leaving fridge doors open and leaving half-eaten sandwiches on the table, but that's okay, we work through that. But to Claire's point, there has been a sort of a level of business as usual that's just been going on and people are still working in the ordinary course, they're still communicating with each other. The only thing I've really noticed is that there has probably been a little bit more video chat. People are getting a little bit more savvy with their technology. Obviously, there were some teething problems with technology sort of in the first week, but I think everyone's sort of getting their head around it. Every day I'm sort of looking forward to who I have to talk to next on a video chat. I'm a bit notorious for video chat, just check out everyone's bedhead, and bad beards that seem to have developed during isolation.
Caitlin Burke Do you do the surprise video calls?
Tim Stewart Absolutely, that is …
Claire Watson You'd be getting a few of those.
Tim Stewart Absolutely do a video call. People are actually now getting a little bit more savvy and just answering with audio only, but I don't let them get away with that for too long. He says while wearing a hat because he hasn't had a haircut in six weeks.
Geneva Sekula One of the partners in our team asked me to give him a call and so I did. I rang off my mobile to his mobile and he answered and was, like, 'Well, this is very old fashioned of you'. And I was, like, 'Oh, well then.'
Tim Stewart It's something that I've really noticed and it's not just the junior lawyers, but a lot of the senior partners and the partners and sort of more senior lawyers, probably haven't been quite as au fait with all the technology, are really getting up to speed with it, and there are some partners who I work with who are really, really excited about this great new thing called 'video chat', which only seemed to have arrived four weeks ago with the advent of COVID, but everyone else has been using that for a while. But it's a really good way to stay as connected as you possibly can in these sort of times. It's interesting, Claire mentioned that in the beginning of the year we worked on a transaction where I was based in the Sydney office and the rest of the team actually was based in Brisbane, and we didn't do one video call during that time at all, and, you know, we probably should have. And I was, actually, at the same time, was working with a different team in Perth on a matter that we were doing out in Western Australia and it was only when we moved remotely that I gave Louise a video call. It was sort of the first time we'd actually chatted face to face, otherwise it was just on Skype or down the telephone line. So I do hope that this is going to change a little bit of the way that we do communicate and sort of bring back in, even if we're sort of, you know, we're allowed to get out and walk around for other things other than toilet paper and pasta, but we'll still be able to connect visually with people once we're all back in the office. Because it makes a difference.
Geneva Sekula Yeah, actually, following on from what Tim just said about getting on a video call to people from other offices, it's funny, I was on a video call with the partner Emma Warren, who I'd been doing all this COVID work with recently, and we were laughing that the two of us, we've never met in real life, never seen each other face to face, jumped on the video chat, and we sort of said, 'Oh, how are you going, nice to meet you,' and we've been emailing on a half-hour basis for weeks. We both observed that it's almost been a bit of a leveller that as a junior lawyer in the Disputes team in the Brisbane office, I've just got to put on big girl pants on and call the partner that I need to speak to because there's no way around it.
Tim Stewart I think that's, again, it's something else that this has sort of shown up that there is a level of individual responsibility that is on all staff and there is a trust that we have in relation to all of our staff. You know, as Claire says, a second year rotater is now sort of the chief lifeline to the press conferences, and it's a really important part of how we can manage this process for our clients. You know, understanding what is being said at press conferences so that we can position ourselves and assist our clients, who are really calling us with issues and developing issues that can't really wait until tomorrow or the end of the week for sort of a refined, pretty brochure about rent relief. There are issues there that are developing in real time. Being able to understand that, and communicate that with our clients clearly and succinctly, is really valuable and a lot of that does come from the work that Claire and Emma and the team are doing. But it's also interesting to sort of talk to all of the junior lawyers, and we are having regular Skype check-ins or other video chat arrangements, with junior lawyers, and it is interesting to see them stepping up and needing to take a little bit of initiative for the work that they're doing, and proactively contacting associates and senior associates and other people in the team, because you do lose that inadvertent contact in the kitchen, the inadvertent coffee chat. Just that loitering around someone's office so you can accidently bump into them to have a chat about that piece of work that you want to ask a question about. It is interesting to sort of see how that is developing in this world of isolation and it's been quite encouraging, it's been very encouraging, actually, to see everyone picking up the phone in the first instance, rather than worrying too much about it, and saying, you know, isolating even further and just looking at that wall that you're referring to, Caitlin.
Geneva Sekula Caitlin, how long were you on the floor before we actually went to working from home?
Caitlin Burke Seven days, the best seven days of my life. I'll never forget it. I have pictures of what my desk used to look like up on my wall. No, I mean, before, I was there for a week and then I think the adjustment has been rapid but also we don't really know anything else. So now I've been here for a couple of months, and so you kind of just adjust, and I say that having shoehorned myself into hosting a podcast, which is probably the biggest modern-day cry for help that you can make. But I still think that Allens have been fantastic with giving us spaces to talk. Because, as Tim was saying, when you lose that kind of serendipitous bumping into someone, or chat around, you know, the corner of the firm, or your floor, or just through matters, that kind of evaporates overnight. But what's been really great, has been the, at first perhaps, kind of more rigid forums that had to be created to kind of recreate that, but now it's just become organic, and I think that's been a game changer, because otherwise I truly would have done a lot more wall staring, but my days are – the highlights of my days are things like this and chats with people that happen organically now, which is great.
Tim Stewart What about the Yammer pets groups?
Caitlin Burke Yammer, yes.
Tim Stewart That's been one of the most exciting things, not only seeing people's bad beards but also getting to know their pets. There seems to be a real fascination with posting photos with pets and I'm no different, and on the social media feed that, again, was new to me, but I've really taken to, seeing people's cats and dogs and llamas and dolphins … the birds. It's quite – you think you learn a lot about people when you meet them in the office but you learn a whole lot more about them when you meet their pets.
Caitlin Burke Pets of Allens is probably the highlight of this whole situation for me. If there's any good that's come out of the pandemic, it is the Pets of Allens web page. I mean, we sort of touched on this as sort of changing how we're working, how our clients are working. I'm interested, Tim, what do you think will happen when we return to work? You know, we've been having lots of meetings with clients over VC or over call now. I mean, do you think there's going to be less of an appetite to have in-person meetings, or, you know, do you think this will shift our approach in the future?
Tim Stewart It's a really interesting question. I think there's going to be definitely a desire to meet people face to face, once we're all allowed to meet people face to face again. I think everyone's just going to be desperately trying to find an excuse to meet people face to face and have a meeting. But I do think that there probably is going to be a little bit more trust and faith in technology to hold meetings and have conversations remotely, you know, whereas historically people might just jump on a plane down to Melbourne for a particular meeting. You know, being able to know that the technology works and a meeting held remotely or by video conference works well when we're all isolated individually, so, you know, if we can sort of get the five people in Sydney in a room in Sydney, and the six people in Melbourne in a room in Melbourne, and have a single video link, that we'll be able to achieve the same outcomes that I think a lot of people were sceptical of. So it's going to be really interesting. I think it's going to be both. I think there's going to be a real desire to actually maintain that human connection because we've been deprived of it over these last couple of weeks. But also a realisation that things can happen remotely. We do not need to be face to face. And I think that's also going to play out with work, and definitely will at Allens. And, as I said beforehand, we were looking at supporting flexible work habits before this happened, and I think now more than ever that's just going to be accelerated because there will be the trust and the understanding that people working from home achieves the outcome that we need for our people, for our business and for our clients.
Geneva Sekula I guess one more thing that probably people who are listening to this podcast would be interested in hearing, what does this mean for clerkships and for our grads? What comes next in this COVID world?
Tim Stewart Yeah, look, we've said a number of times, we are looking to maintain business as usual. We have to maintain business as usual. You know, we have clients that need our help and need our advice and we're rolling that business-as-usual attitude out to recruitment and clerkships as well. Now, look, if we're not back in the office by the time summer clerkships in Sydney come around, we'll run virtual clerkships and we're looking at running virtual clerkships in Melbourne at the moment. That is still giving people an idea of what it's like to work in a law firm. What it's like to work in a law firm virtually, at the moment, but we are continuing to engage with law students. You know, despite being unable to meet face to face, we're participating in a virtual careers fair. I did a virtual webinar for some students from one of the Sydney universities earlier in the week, last week. We're hosting some of the meet and engage sessions I know that we spoke about a lot on the podcast and have been mentioned a lot recently, and really trying to sort of ramp up our presence on social media. So when it comes to recruitment, we are looking to continue business as usual, where we've got a large group of grads coming off our summer clerkship in Sydney last year who are looking to start at the beginning of next year. We're a business that is almost 200 years old and we are a business that's looking to continue well into the future. We need to acknowledge this for what it is, an exceptional circumstance and an exceptional environment that we're currently operating in, but we have to change and adapt and we will. But at all times we need to maintain the business that we have of being an excellent law firm and delivering excellent client advice, and that includes recruiting the best possible people to do that.
Geneva Sekula Just to finish up, guys, what would your best career advice be? I'll start with you, Claire.
Claire Watson Well, I always just generically say when I'm talking to prospective clerks and prospective grads at the events we host, and things like that, always asking what your advice is and what they should do and all of those things, and I always just say, 'Please relax and please just be yourself because there's no point in trying to trump yourself up and present yourself as something that you're not, and try to enjoy the process a little bit.' But I also add a little bit of a tip that I've worked out for myself not too long ago, that sort of applies to everyone, I guess, and definitely helps me as a junior lawyer. I've sort of recently started putting, I have all my inbox organised and have lots of folders for matters and blah de blah, but I made a little folder that I just called 'nice things' the other day, and I started to just put emails that you get now and then where someone tells you you've done a good job on something, or that they appreciated something or what have you. And I just sort of centralise them and pop them in there, so that when you're having a day when you're not feeling so confident or feeling a bit unsure, it's kind of nice to just look at the times where you did do something right, and you get some good feedback and good praise and go, 'Oh, yeah, yeah, I can work this one out.'
Caitlin Burke Claire, I've got a smile file too.
Claire Watson It's actually kind of a fun little tip. Yeah, it's cool, it's a good one as a junior lawyer, I think. When you definitely think you have no idea what's happening, because you'll have that feeling.
Tim Stewart That's such a great idea. I think everyone should have a smile file. I'm going to put a smile file…
Claire Watson Smile file, that's a better name.
Caitlin Burke Mine is called 'smile file'.
Tim Stewart I love it.
Claire Watson So maybe I'll change mine.
Caitlin Burke So that's the lasting legacy of Rosanna Bricknell there. That was the first piece of advice she gave to us as clerks and it was something that we swiftly took up two years ago, and I've still got. So she lives on.
Claire Watson It lives on.
Tim Stewart Yeah, look, I'm probably a little bit more broad than Claire, but I wanted to pick up on one thing that Claire did say, you know, particularly when you're going through the recruitment process, make sure you put the effort into being yourself and showing yourself to people who are interviewing you. It's too hard to be someone else and it's also relatively obvious when people are trying to be someone who they're not. I think probably the best career advice that I can give, and I probably would have liked someone to give it to me a bit earlier on, is get involved, put your hand up. You know, have an open mind. There's so many opportunities presented to us generally. Not just in a work environment but generally; that opportunities that present themselves to you, particularly in commercial law firms as well. Get involved in things that you don't know about, you know, whether it's a work type, whether it's a pro bono matter. Whether it's charity work or whether it's secondment. But, by all means, you're not going to love everything, but you will love some things and you're definitely going to learn something. You're going to have some great experiences and meet some great people. But sort of coming to work with an open mind and also, I think, to be honest, living your life with an open mind and putting your hand up to help out, try something new, is something I can only encourage people to do.
Caitlin Burke That's great; well, thank you, Tim and Claire. This has been a really interesting episode. It's been a very unusual episode for a number of reasons but we've really enjoyed hearing your insights and I'm sure everyone's going to be really keen to learn a little bit more about what the firm's doing in this crazy time. So, thank you so much for joining us, and tune in again next time for Allens Confidential.
About the presenters: Geneva Sekula & Caitlin Burke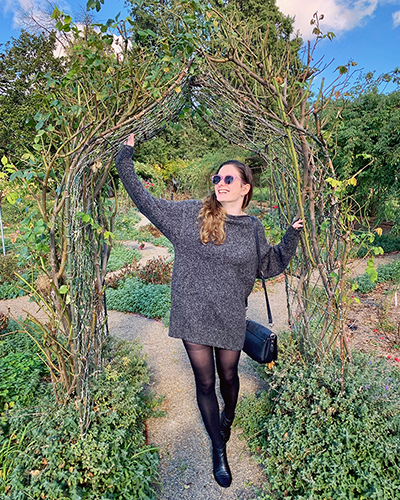 Geneva is a Senior Associate in our Disputes and Investigations team. She loves brunch, dogs, Netflix marathons, and giving unsolicited advice. A graduate of the University of Sydney, she clerked at Allens in Sydney in 2015 before joining the firm as a nervous but enthusiastic graduate in 2017.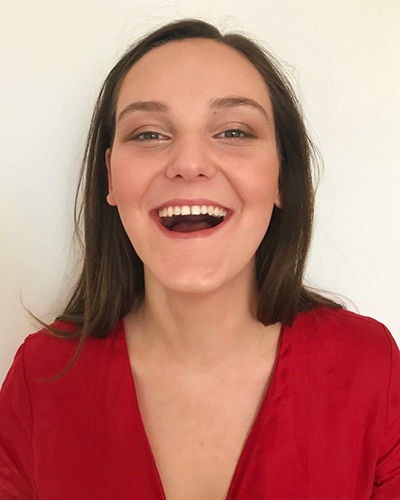 Caitlin is (allegedly) a Lawyer at Allens. She joined the firm as a clerk in 2017, before running away to join the circus for a few years and returning like the prodigal son to the Disputes and Investigations team in 2020. Caitlin studied at the ANU and exercises her right to embarrass herself daily; at work, in the streets and on the dance floor - sometimes simultaneously, but always with a smile.