Behind the scenes of our podcast, Allens Confidential
Freaking out about your clerkship options? Not sure which firm is for you, or even if you want to practice law? We know it can be hard to differentiate one firm from another, particularly when everyone says the same thing: that they 'do great work with great people'. Our podcast, Allens Confidential, explores what this statement actually means and what it's really like to work at Allens.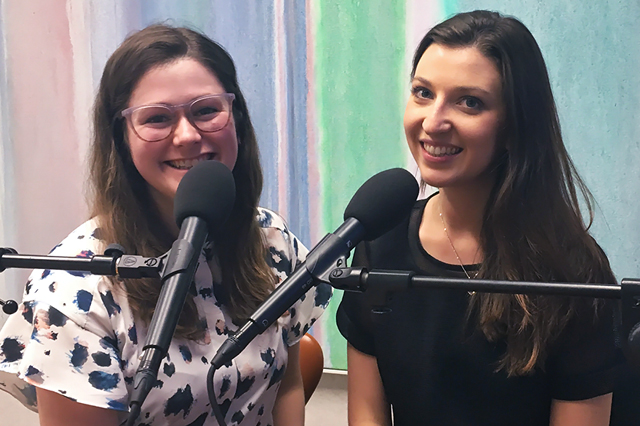 Allens Confidential was launched by two of our junior lawyers, Geneva Sekula and Roseanna Bricknell. When reflecting on their own experience with the clerkship application process, they both noticed that during their clerkship journey every firm said the same things about themselves. Geneva and Roseanna decided to help students by giving them a deeper insight into what being a lawyer is like and what differentiates Allens.
I think the advice that I would give to future clerks about to go through the process is to not put too much pressure on yourself. I think it's good to be yourself…the process is designed for you to have fun and to make friends…just try to take the pressure off and enjoy it. – Ellie Farris.
Season one of the podcast covers a wide range of topics, including: innovation, life as a junior lawyer, pro bono and community work, flexible working and overseas secondments. Every episode features guests from various practice groups, at various stages of their careers.
In episode two, for example ('What's it really like to work at a top tier firm?'), Geneva and Roseanna catch up with two second-year Lawyers from our Perth office, Elle Farris and Jonathon Holborn, to paint a realistic picture of life as a junior lawyer at Allens. In the podcast they share their tips for the clerkship process and beyond.
If you haven't had a chance to tune into the podcast yet, you can find it on iTunes. The team has now produced several seasons and the amzaing guests and topics keep coming, so subscribe and stay tuned!
Do you have questions about working with us? Visit www.allens.com.au/careers or email student.careers@allens.com.au.